I have been visiting Yosemite National Park for as long as I can remember. My dad would often take us to stay at Housekeeper's Camp in Yosemite Valley, where all we had to do was bring food and sleeping bags to enjoy our experience that would in today's terms be defined as "glamping." The green canvas that comprised the tents exterior was the only barrier between us and the wildlife that ranged from tiny squirrels that could open up zippers on backpacks to bears that could open cars either by using the handles or rip the doors apart with brute force. Yosemite Valley is where I first saw a bear up close, which was equally fascinating and terrifying. I specifically recall my dad disposing our dinner in the open lid-less trash can adjacent to the women's bathroom entrance, providing a perfect receptacle for our leftover mac n' cheese to serve as an appetizer to a couple of hungry bears. I also remember running around camp with my siblings, not caring how dirty and dusty our clothes and shoes got as the day passed and the sunset introduced the night.
Journeys into the National Park continued into adulthood, but I was accompanied by classmates, and/or friends. Unfortunately I never visited the park with my dad following our adventures when we were kids. After my father passed away in 2016, I was itching to head back into Yosemite National Park to pay those memories tribute, and to find myself in awe of the beauty and natural wonder that Yosemite could provide. The park feels familiar yet I discover something new with each visit, like an old friend who keeps surprising you with things you never knew.
We had scored the incredibly hard-to-get permits to climb Half Dome only 2 days before the cables were to come down, signifying the end of the season for the monstrous day hike. I had just turned 30 a few months previous, and was having a tough year between multiple family deaths (my dad and then someone who I always felt was my second dad a couple months later) and a relationship that should have ended sooner but had ended a week prior to our permit reservations. I wasn't sure if I had the mental capacity to hike 16-20 miles in a day with like 5,000 feet elevation gain and then loss on the way back down, but my dear friend encouraged me. And although it has nearly been 4 years since I stood atop Half Dome (spoiler alert), I thought what better time than to document such an achievement and beauty that persisted throughout my mental and physical struggles. Half Dome became a big symbol of strength and ability to overcome my own mountains, big or small, that has withstood the test of time.
My friends and I continued the trend of glamping by staying in the tent cabins at Curry Village, which at the time was called Half Dome Village due to the trademark dispute between the National Park Service and the former concessions company Delaware North in 2016. Curry Village has a handful of traditional wood cabins in addition to a little city of tent cabins made of canvas that are equipped with multiple beds and can be rented with a heater if you are willing to pay extra, pending availability at the time of booking. As with most parks in California, it helps to book early and to travel in the shoulder seasons or off-season. The check-in desk sells sleeping bags if you forget to bring one. The Village has a couple of restaurants and stores, but they can have limited hours or be closed depending on the time of the year. The tent cabins are pricey even in the shoulder seasons, but can be worth it for their convenience and proximity to attractions within the Valley. In our case, it was close to the Mist Trail trailhead where we began our expedition to Half Dome.
For those fantasizing about making their own trek up the famous mountain, keep in mind that you need permits (since 2011) which can be won by a lottery. In my case, one of us scored a group permit. There's a ranger that asks to see your permit at the bottom of the cables, on Sub Dome, before you make the climb to the summit. We actually saw the ranger descending when we were still hiking up. So it would be possible to try to go up there, but I wouldn't advise trying to risk taking such a long hike to potentially be turned around near the end. Additionally, the permitting process started for a reason – the cables have become overcrowded and the permits are a way to try to limit the number of people to clog up the cables, which as you can imagine can be incredibly dangerous.
To be honest, I was anxious and a bit scared about hiking to Half Dome. I had never gone on such a long hike, and those cables to get to the top seem super sketchy. On top of that, I was hiking with a group of people that were in better physical and mental shape than I was. I was never a fast hiker, and I worried that I would slow down the rest of the group to the point where we would finish the hike really late. Two of the four other people that made the trip had just completed the Yosemite half marathon like 36 hours before we began our hike, so I was secretly hoping that they would be sore enough to slow down. I had also wanted to start early, but the group agreed to start around 6:45 or 7am. We walked to the trailhead from camp, and watched the first shuttle bus of the day drive past us. Dangit! We added nearly a mile to our long hike by walking from Curry Village.
We reached the trailhead near the Happy Isles shuttle stop and started our adventure on the Mist Trail. For those of you that are unfamiliar with the Mist Trail, it is one of the most popular day hikes in Yosemite National Park, and for good reason. The trail starts with sort of paved rolling hills until it reaches stairs that are carved into the natural granite rock of the Sierra Nevada Mountains. The stairs bring you up close and personal to Vernal Falls, and if you continue onward you reach Nevada Falls. I had hiked the Mist Trail multiple times in the fall, and didn't quite understand the name until I visited in the spring, when the waterfalls are raging as they're fed by the snowmelt in the high country. If you do visit in the spring, I would highly recommend bringing a raincoat or at least a dry bag to put your valuables that you do not wish to get soaked in the misty splatter-back of raging water falling onto the rocks.
The nice thing about starting so early, is the trails are usually empty and you can find some alone time in one of the most crowded areas of one of the most popular national parks in the nation. The waterfalls did not have much water, as expected for the time of year.
Once you reach the top, most likely panting from all of the real-life Stair Master action of climbing 1,000 feet from the Valley floor, you can lean over from the edge of the railings and get a wonderful view down the Merced River. The view tends to weaken my knees with vertigo, but it is truly spectacular. It's also a great place to stop to have a bite to eat. Be aware of the conniving squirrels; I have seen many open backpack zippers and steal food from the unsuspecting here.
For the geomorphology buff, I recall finding striations nearby, evidence of Yosemite's glaciated past. For those of you that aren't very familiar with Yosemite's geomorphology, much of the park was carved out by massive glaciers thousands of years ago. In general, the glaciers followed the major drainages of the Merced and Tuolumne Rivers. As ice builds up in the mountains with higher elevations, it will generally flow down the existing landscapes (thanks gravity), generally following river canyons [1]. Evidence of glaciers range from little striations (scratches from smaller rocks getting caught under the ice and being dragged across the surface) to moraines (rocks and sediment carried down and deposited by a glacier, which usually look like ridges and are an indicator of the glacial boundary). The Tioga Glaciation peaked about 15,000 to 20,000 years ago [2].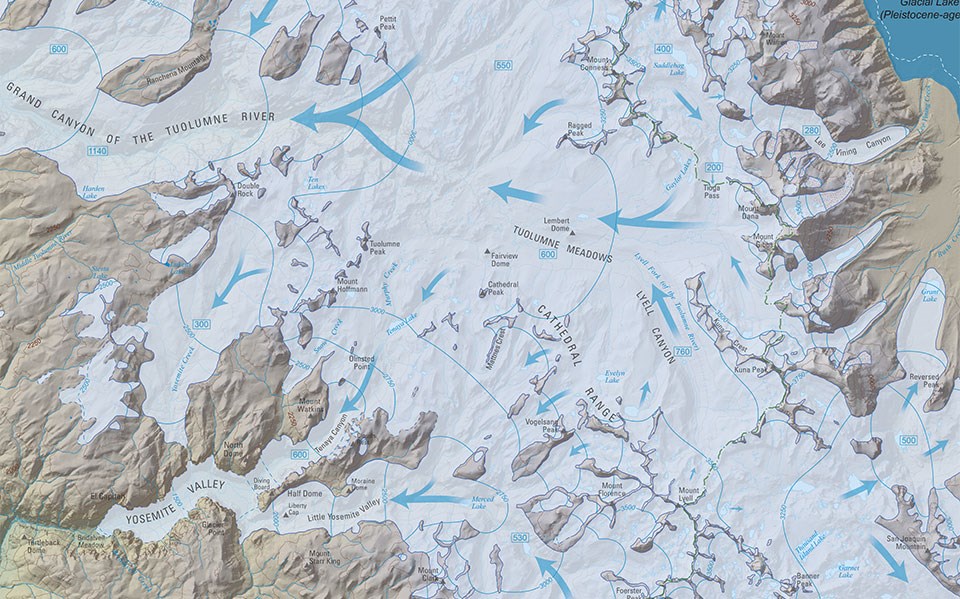 We continued our course past Vernal Falls, taking foot bridges over the Merced River and enjoying views of Mt. Broderick and Liberty Cap granitic domes, and onward beyond Nevada Falls.
Once past Nevada Falls, we hiked in Little Yosemite Valley. Little Yosemite Valley has a very popular campground for backpackers to stay overnight on the way to Half Dome. Due to its proximity to Half Dome, Little Yosemite Valley Campground is the most popular area in the Yosemite Wilderness and is often frequented by bears trying to take advantage of any mishandling of food, toiletries, and trash. All that I really remember were unlimited switchbacks that weaved through the forest, with no viewspots until you nearly reach Sub Dome and are greeted with this crazy view:
By this point we had hiked nearly 8 miles, with approximately 3,600 feet in elevation gain. After being in the forest so long, we had to stop at the viewspot for a well deserved rest and snack break before going through Sub Dome.
I trudged on, trying to focus on planting one foot in front of the other and using my hiking/trekking poles to assist with the climb. But I was definitely freaking out, and dreading the cables as we got closer step by step. I seemed to be the only nervous one in our group, so I tried to keep it to myself as best as I could. Sub Dome was fun to hike, as there didn't seem to be any real trail and you could just grip the granite with your boots and keep climbing. Then you are forced to make a decision about what to do when you reach this place:
The cables appeared to be like a rudimentary ladder. I definitely wanted to turn back, but my dear friend Zach was there to motivate me to keep going. He just kept saying that he would be right behind me, and he wouldn't let me fall. A pile of gloves were waiting at the bottom, to help avoid burning your hands from the cables. I attached my trekking poles to my backpack and tightened everything so that nothing would fall out. Another friend had told me that when they were toward the bottom of the cables trying to psyche themselves up for the climb, they had watched a water bottle fall from someone's backpack, their eyes following it as it rolled from far above their heads all the way down in the abyss, and that was the end for them. Keeping that in my mind, I donned the gloves that I brought and put one hand forward and focused on the rockwall that was directly in front of me, careful to not look too far ahead or too far below. When I heard a water bottle clank against the granite from up above myself, I looked up to confirm I was avoiding its doomsday path down the mountain, and continued to look at the rockface. For those climbing the cables, please make sure to secure every thing prior to starting the cabled ascent that is longer than a football field.
I did not anticipate how much upper body strength would be required to climb the 400 feet elevation change. There are sections of rock that are so polished by people's footsteps that it feels like you're walking on ice on a 45 to 60 degree slope [3]. The cables are bolted into the rock and raised onto a series of metal poles with attached wooden boards that can be used as mini ledges to take a break from climbing. However, given it was the end of the season, the cable system had been in better shape and many of the rods used to link the cables and boards were quite loose, so much that numerous boards were subsequently on the precipice of detaching and some had already broken and fallen. When the cables are "taken down" for the season, it means the rods are removed, but the cables remain bolted into the rock throughout the year. It's a route that is not to be taken lightly: the Cable Route is rated as class 3, while the same face away from the cables is rated as Class 5 and it is recommended to not attempt the climb when the cables are down [4]. Since 1995, at least 12 people have died while climbing Half Dome, the most recent being in September 2019 [5]. In the 100 years since cables were installed to help hikers climb this steep pitch, nine people have died from the stretch of cables, four of which occurred when the rock was wet and at least one was caused by a hiker's collapse from illness [6]. Though most of the hiker deaths on Half Dome have occurred on the cables, some have been struck by lightning and/or fallen from the summit. I tried my best to pull myself up along the cables, but there were times when you had to take a big step over part of the rock and my friend had to shove me up because I did not have the strength to pull myself up on my own. He wasn't kidding when he said, "I got you" at the bottom. With all of that, we persevered and summited Half Dome!
Despite making it to the top, I was still incredibly anxious and totally dreading the climb back down. Many of these photos from the top were taken by my friend with my camera because I didn't want to venture very far out and was nowhere near the edge of the sheer cliffs. Thankfully we were one of the last groups to descend, so I could take my time, and there was only one group of people ascending. I went down while facing the rock so I wouldn't have a mental breakdown facing outwards, and friends patiently took photos of us all with their phones while I gripped on for dear life.
I had such an incredibly sense of relief and weight off my shoulders when we made it off of those cables. And I felt well enough to take pictures again to capture the great views from Sub Dome.
We made our way past Liberty Cap onto the bridge over Nevada Falls just as the sun was beginning to set. There were a few who had stayed on top of the falls, waiting for the sunset to illuminate the sky.
Rather than taking the steps back along the Mist Trail, we opted to take the John Muir Trail so we could descend with the switchbacks rather than the steep granitic steps. As we walked along the pathway, we had to keep stopping because the sky lit up in one of the most magical sunsets I have ever seen in my life.
It was just what I needed to energize myself for the 4 mile and 2,000 ft descent to the Valley. We used our headlamps and hiked for the last hour or two in darkness. Thankfully the shuttle was still running, so we caught a ride back to Curry Village in time to grab a pizza and relax.
The following day I ventured in the park alone while my friends left to return to work in the bay. I caught the morning light in the valley, which lit up the yellows of autumn inside the park. I was incredibly sore, so I tried to stay in the flatlands as much as possible given that every little movement hurt.
I gazed up from the valley floor toward the almighty Half Dome, and felt a sense of accomplishment flood my mind. Did I really climb that?
To round out my visit, I drove to the top of Glacier Point and hobbled out to the view-spot. I spotted the hikers atop Half Dome and my sore muscles were a constant reminder of what a huge adventure that was.
Every time I visit Yosemite, I find it remarkable that I hiked all of that in a day and dragged myself up (or shoved up) those cables. I don't think I would have been able to make it at that time without such a sturdy group of friends, and I'm forever grateful to them for their patience as I slowly made my way down that steep face.
Oh yeah, I also lost a couple toe-nails about a month later. Thank you Half Dome for keeping it real.